I love vintage "textbook" illustrations, particularly diagrams of the scientific variety. There is something about the no-nonsense character of these illustrations that I'm drawn to.
I think that there is such art and nature and while many people love to find that art through photographs I find it even more astounding when we can find it through drawings. It's like a second filter, making it all the more interesting.
This brings me to one of my latest thrift finds:
Rocks and Minerals: A Golden Guide
, as pointed out to me by my observant boyfriend who mentioned that he remembered looking through this book at his grandmas when he was a kid. The original version from 1957 containing all of it's original amazing (watercolor, I believe) illustrations by Ray Perlman. The diagrams in this book especially have such an amazing visual quality to them. Here are some photos I took of the book (I am without scanner and the book is quite small).
There is especially something about that last illustration (page 140, a, b and c) that really catches my eye. I'd love to scan it, blow it up, print it and hang it.
I specifically love human anatomy drawings (note: probably should not be displayed in or around dining room).
I love this example of decorating with educational illustrations.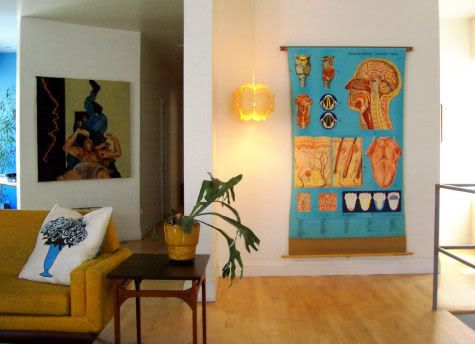 [source]
And here are some examples of some great illustrations from
Vintage Printable
(which is currently down right now for some reason).