I must apologize for my lack of posting. The past quarter was a busy one and lately I feel as though my blog has been steering away from what it's original intent was- thrift purchases and tips- etc.
To get back into the swing of things slowly is a little post on the finding, care and keeping of copper bottom cookware.
Copper bottom pots are my favorite pots to cook with, especially on our not-so-great electric stove, but they work with gas just as nice and the handle don't get hot! The best thing is that you can often find them scattered around the housewares department of your friendly local thrift store! That is where I pick up most mine (or hand-me-downs). A seven piece set can cost you $100+ even used and while you mostly likely aren't going to find seven pieces at a thrift store on one day you can usually pick them up one at a time for between $3 and $7... even if you paid $7 for each piece that's still cutting costs in half which is what I like to see.
The one draw back to these pots is that they get tarnished quick, ESPECIALLY with gas stoves. I think that is often why they end up at thrift stores. Well never fear happy home cooks, I have a solution and it's probably sitting in your refrigerator right this moment. Ketchup!
Ketchup has a lot of acidity which will nicely combat the tarnish on the bottom of your beloved pan. Simply wet the pan a little and apply the ketchup like a paste and wait for about 15 minutes, scrub off and observe the magic that will happen before your very eyes.
Don't believe me? Visual proof below!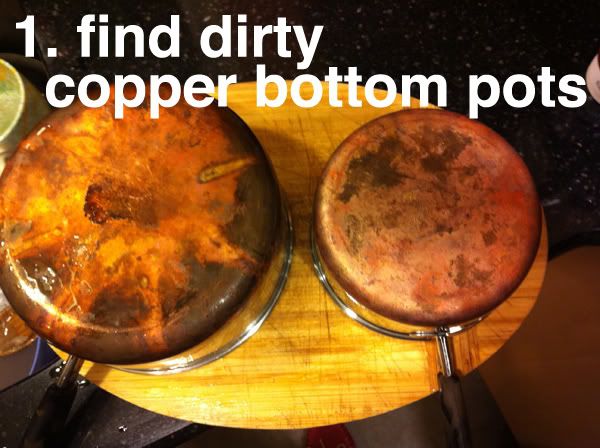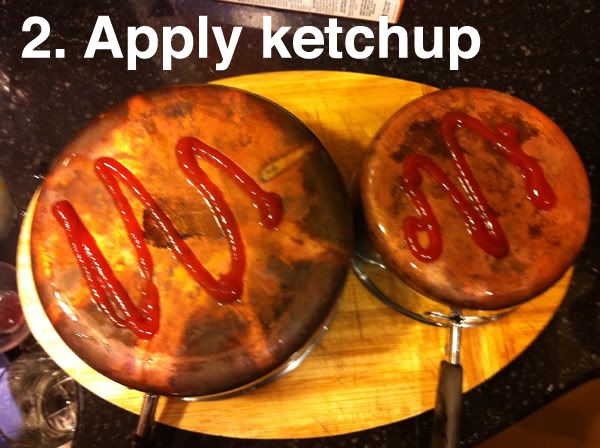 (be sure to rub the ketchup around, this step was not pictured)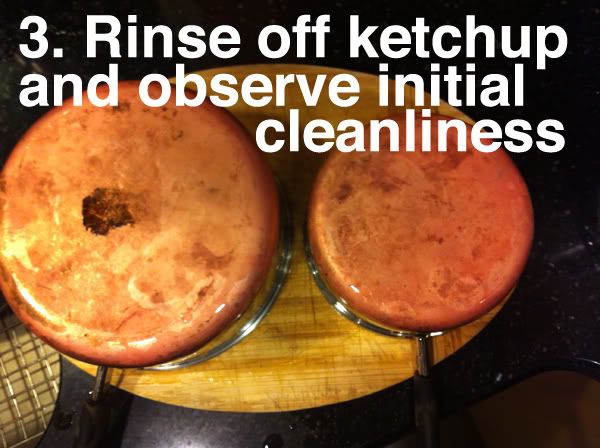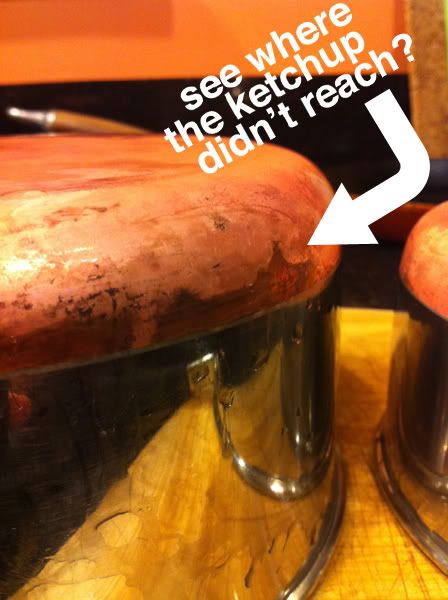 Want to try something a little extra? Either repeat steps 1-3 or move on to step 4!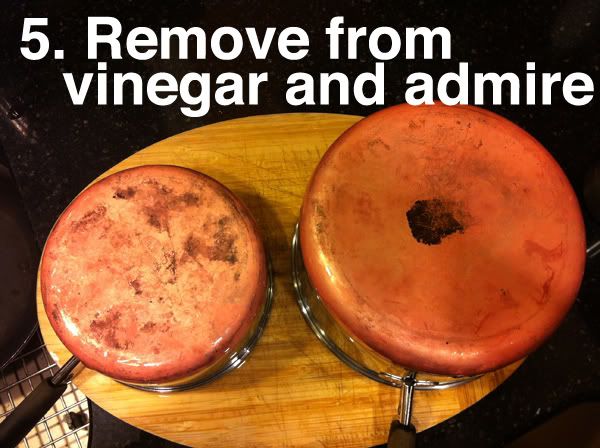 Tres amazing! I'm now doing a four quart pan and then I'm going to move on to the soup pot. I'm a sucker for instant gratification in regards to cleaning so I loved this. In review: copper cookware is the best and it's not nearly as difficult to clean as people think so stock up, enjoy cooking and keep it lookin' pretty!
Until next time!